Captin Manoj Kumar Pandey's regiment was in Siachin from there they got order to move to Batalik sector. His commanding officer Colonel Lalit Rai gave him responsibility to re capture Khalubar post.
Ealier, two petrol party belongs to 16 Grenadiers and 3 Punjab had gone but after 16 days there was no news of them, they all were killed by enemy's mortar and heavy machineguns fire. Here enemy has sat on an advantageous high positions.
Captain. Manoj moved to Kukarthan on where he faced heavy fire, then, he decided to get enemy in night. He halted there and waited till the night. As night falls, by taking advantage of darkness he attacked on enemy, they fought whole night to take on the post. In early morning hours, Capt. Manoj decided to end the night long battle, he, then, went up to the post without caring possible mines. He finally captured the post but lost 9 of his men.
Insatiable Capt. Manoj got yet another and difficult task to recapture Jubar post on 11 June 1999. Jubar task was critical as he was to fought in day lighted vulnerable area. He led his to enemy position through a narrow ridge. Enemy started discriminate fire on Indian Troop, he volunteered himself to locate the position of enemy and hit by a bullet in his sholder. But, determined Capt. charged at the enemy with a full throught battle cry Jai Maha Kali, Aayo Gorkhali!!! in between he was again titted by a bullet in his waist. Indomitable Capt. Manoj continued firing at enemy's bunker. Then he charged at enemy with his Khukhari, in hand-to-hand battle he kill two more enemy and cleared first bunker area and inspired by him his the troop fell upon the enemy. Unmindful of his grievous wounds, he rushed from bunker to bunker urging his men on. Critically bleeding, he collapsed at the final bunker and finally succumbed to his injuries, but not before the last of the enemy had been annihilated. His last words were, "Na Chodnu" (Don't Leave Them). For his sustained display of the most conspicuous personal bravery and junior leadership of the highest order in the face of the enemy, Lieutenant Manoj Kumar Pandey was awarded the Param Vir Chakra, India's highest medal for gallantry, posthumously.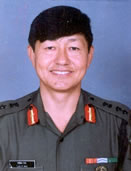 Colonel Lalit Rai,
C O of the 1/11 GR during Kargil War he got Vir Chakra in the same battle.